AMC, CMC & PMC @ Niranjan Ultrasound India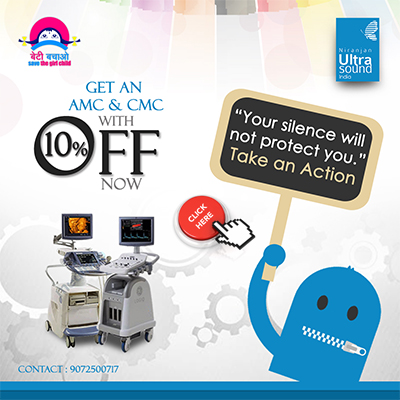 Systems Care Packages (CMCs and AMCs)
We ensure the best after sales services in terms of comprehensive maintenance contracts and annual maintenance contracts. Niranjan Ultrasound India undertakes AMCs for all types of ultrasound machines with our service personnel visiting your workplace for the system's preventive maintenance (4 visits a year, once in every 3 months).
Apart from the regular checks, we will also attend to your machine whenever needed. We ensure you of prompt response with our field service engineer attending to your call within 24 hours of your complaint registration. In case the problem with the machine cannot be solved in a day or two, we will provide you with a standby machine (as per availability) in accordance with the PCPNDT policy.
Performance of equipment determines the quality of output and we make sure your equipment exhibits maximum performance through our optimized Annual Maintenance Contracts (AMCs) and Comprehensive Maintenance Contracts (CMCs). Designed to suit your service needs, we provide customized service support, which will help you attain the best throughput from your equipment. Besides regular check-ups based on different suits, we also offer emergency service during any breakdown.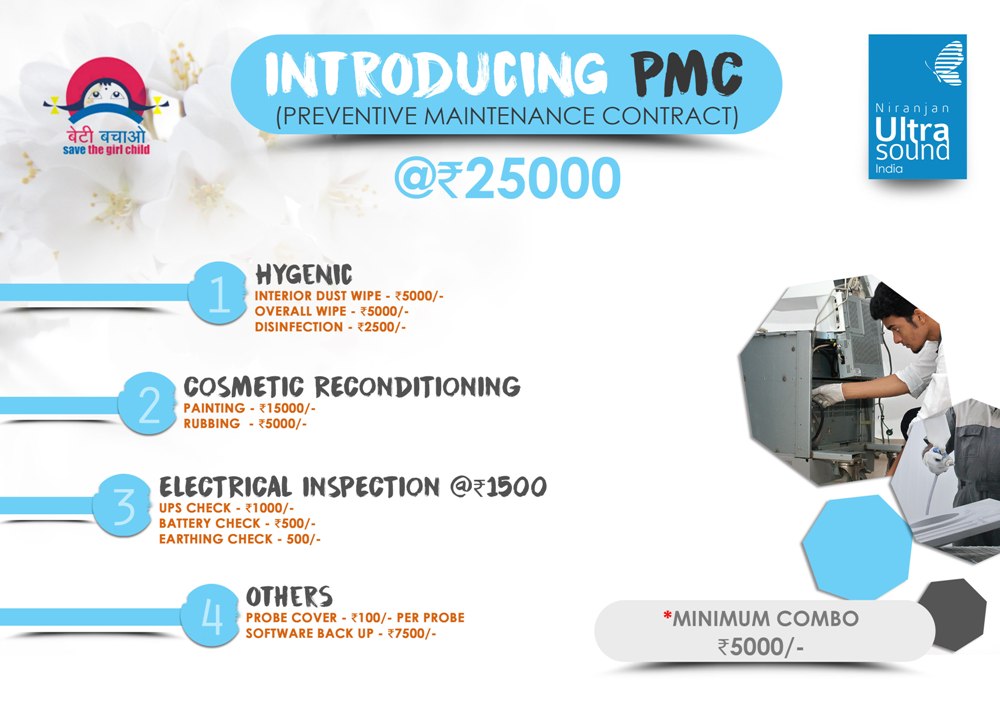 Preventive Maintenance Contracts
Niranjan Ultrasound India has come out with A Totally Novel & New Concept in India by launching PMC (Preventive Maintenance Contract) for ultrasound systems. The growing Ultrasound Industry especially in developing & underdeveloped nations has compelled dire necessity & need for PMC to ensure Longevity, Accuracy, Quality & Steady Performance of Medical Equipments.
Exceptional Benefits of Regular Preventative Maintenance Enables Truly Cost-Effective Service Protection to the sophisticated equipment in the long run. If you are cost conscious, we suggest considering Preventative Maintenance Plan. The best choice for a cost-effective ultrasound service protection plan to maintain the performance and quality of your ultrasound equipment. Users that prefer this plan want to contain unplanned expenses by leveraging the benefits of regularly scheduled preventative maintenance checks to keep their ultrasound equipment up-and-running. 
Ultrasound Equipment Preventative Maintenance Plan Features Include:
Preventative maintenance (PM) checks.
PM's are performed twice within the contract year along with a full safety inspection, diagnostic performance evaluation and all corrective maintenance.
Discount on all parts purchased within the contract period and definition as announced by Niranjan Ultrasound from time to time.  (Not covered are transducers replaced due to accidental damage.)
Quality assured factory parts.
Next day part delivery with same day technical support.
Hard copy documentation and service reports provided at no additional cost.
Additional Support is Available When You Need Us
Niranjan Ultrasound India service engineers are available to assist you on-site at our preferred normal business and after hour rates.