College Choice Releases 2016 Rankings of Best Ultrasound Technician Schools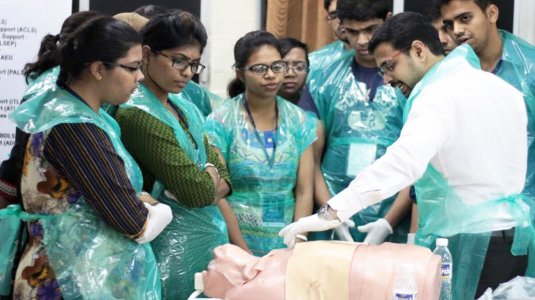 Ultrasound technicians are highly trained and independent working professionals. Now that the field is growing, they are also required to have higher education.
Christian Amondson, managing editor of College Choice, had this to say about the ranking: "According to the Bureau of Labor Statistics, people in management occupations (where many business school grads end up) earned an average of $98,560 in 2015. No other occupational group had a higher average compensation level. Job growth is looking healthy as well – business and financial operations occupations are projected to grow 8 percent from 2014 to 2024."
The Best Ultrasound Technician Schools 2016 ranking from College Choice was first and foremost created by using actual freshman data from the Higher Education Research Institute at the University of California Los Angeles (UCLA). This was used in conjunction with other factors, including academic reputation, tuition costs and graduate employment success rates.
The University of Oklahoma Health Sciences Center led the 2016 ranking, followed by the University of Arkansas for Medical Sciences and Ohio State University.
The complete rankings are as follows:
Allen College, Waterloo, Iowa;
Armstrong State University, Savannah, Ga.;
Baptist Memorial College of Health Science, Memphis, Tenn.;
Boise State University, Boise, Idaho;
Bryan College of Health Sciences, Lincoln, Neb.;
Grand Valley State University, Allendale, Mich.;
Kettering College, Kettering, Ohio;
Mayo Clinic College of Medicine, Rochester, Minn.;
Nova Southeastern University, Fort Lauderdale, Fla.;
Ohio State University, Columbus, Ohio;
Oregon Institute of Technology, Klamath Falls, Ore.;
Rochester Institute of Technology, Rochester, N.Y.;
Rush University, Chicago;
Rutgers University, Piscataway, N.J.;
Seattle University, Seattle;
St. Catherine University, St. Paul, Minn.;
Thomas Jefferson University, Philadelphia;
University of Arkansas for Medical Sciences, Little Rock, Ark.;
University of Charleston, Charleston, W. Va.;
University of Findlay, Findlay, Ohio;
University of Iowa Health Care, Iowa City, Iowa;
University of Missouri, Columbia, Mo.;
University of Nebraska Medical Center, Omaha, Neb.;
University of Oklahoma Health Sciences Center, Oklahoma City, Okla.; and
University of Wisconsin Milwaukee, Milwaukee, Wis.
Source : ITN News dated 22nd August 2016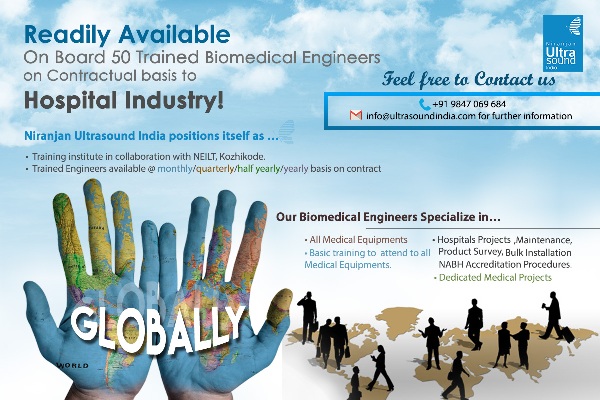 Niranjan Ultrasound India also emphasis on this trend of growing need for trained Ultrasound Technicians of the ever growing demand for the same from the Ultrasound Industry World Over. In order to cater to the demand we have started a Unique & Novel Concept of offering Trained Biomedical Engineers on Contractual Appointment to Hospital Industry, Manufacturers of Medical Equipments, Diagnostic Centres, etc not only in India but abroad also.
 Our Biomedical Engineers specialize in….
All Medical Equipments
Hospitals Projects / Maintenance / Product Survey / Bulk Installation / NHRM Bulk Procedures / NABH Accreditation Procedures.
Basic training to attend to all Medical Equipments.
Dedicated Medical Projects
Niranjan Ultrasound India positions itself as …
Manpower consultants for the Medical Equipment Manpower shortcomings.
Training institute in collaboration with NEILT, Kozhikode.
Trained Engineers available @ monthly/quarterly/half yearly/yearly basis on contract
Feel free to Contact us @ +91 9847 069 684 or email us @ info@ultrasoundindia.com for further information.
Disclaimer : Niranjan Ultrasound India Pvt Ltd! will not be responsible for the accuracy of news releases posted to NUIPL Blog! by contributing institutions or for the use of any information through the NUIPL system.