Endobronchial ultrasound eases TB diagnosis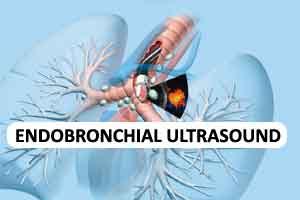 The doctor said EBUS will help in diagnosis of diseases like TB, lung cancer and sarcoidosis with more accuracy along with the stages of the diseases. Till now, the methods to confirm lung cancer and TB have been considered very confusing and time-consuming, which have compelled doctors to start medical treatment for all on the basis of assumption till the disease was confirmed.
"During EBUS, a bronchoscope with a special ultrasound transmitter and processor at its tip is put into the wind pipe of the patient. The scope that goes inside the trachea can be pointed in different directions to produce images of lymph nodes and other structures in the area between the lungs, called the mediastinum," said Dr Arup Basu, senior consultant of chest medicine at Sir Ganga Ram Hospital.
He said that using the detailed images, it was possible to check the actual percentage of the body or lungs that the diseases have affected. "Using EBUS, biopsies are performed through the trachea using ultrasound rather than surgical incisions which are usually used in more severe cases."
EBUS is usually completed in less than half an hour. It allows the doctor to look in areas that have traditionally been hard to conduct biopsy. Basu said that if during the entire procedure, the lymph nodes or any other part of lung are found enlarged, then a hollow needle can be passed through the bronchoscope and a biopsy can be obtained to confirm the disease which can be either tuberculosis or lung cancer or any other disease.
The successful trial of EBUS in India has been published in the Journal of Associations of Physicians of India. Currently the technique is being performed at a few hospitals including SRGH, AIIMS and a few other private healthcare institutions. Health surveys have shown that India has 22 lakh cases, more than three lakh deaths, and economic losses of $23 billion (Rs143,123 crore) from TB every year.
On other advantages of EBUS, Basu said "This procedure hardly takes one hour and if it remains smooth then can be done with half an hour. This also prevents any sort of unwanted surgeries which can cause other complications in human body."
Posted by: supriya kashyap ,March 25, 2016
Courtesy by: http://speciality.medicaldialogues.in/endobronchial-ultrasound-eases-tb-diagnosis/
Disclaimer: Niranjan Ultrasound India Pvt Ltd! will not be responsible for the accuracy of news releases posted to NUIPL Blog! by contributing institutions or for the use of any information through the NUIPL system.