Health Ministry proposes Amendments to PC-PNDT Act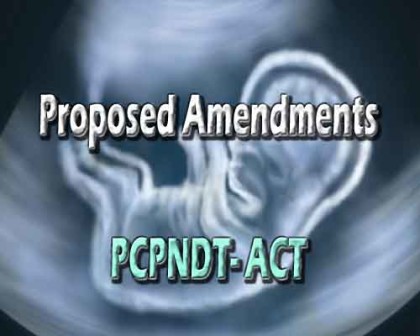 The Ministry of Health & Family Welfare has recently come out with some proposed amendments to the PC-PNDT Act. These proposed amendments are the result of the recommendations of the expert committee containing members of the government as well associations including IMA, FOGSI as well as IRIA.
The government is also inviting suggestions/views from the stakeholders & general public. You can send the same through email on sopndt-mohfw@gov.in on or before 21st March, 2016.
 The major changes as proposed to the act can be summarized (rewritten) as follows:
Earlier, the Act laid certain conditions as well as prohibitions on the SALE of the ultrasound machines. Now the conditions as well as prohibitions shall extend to any kind of TRANSFER, which may/may not be constituted as sale.
Penalties are proposed to be higher with the amendments. It is proposed to divide violations under the act into those which directly leads to (as assists in) Sex Determination to address them separately from other contraventions of the act.
The fine for indulging/assisting/aiding in Sex Determination is proposed to be increased. The fines which were earlier defined as up to Rs 10,000 have been increased to up to fifty thousand, whereas conviction which may extend to three years has been proposed. Similarly repeat offenders who faced maximum imprisonment of 5 years are proposed to be convicted with imprisonment which shall not be less than five years & with a fine which may extend up to Rs 1 Lakh."
Not abiding by the certain prescribed norms will lead to a fine of minimum Rs 1000 & incase of continuing contravention, additional fine will be of Rs 500 per day. These prescribed norms include:  (a) Wearing an apron with Proper Name place while performing diagnostic procedure (b) Putting up-sign board disclaiming Sex Selection at a prominent place in the clinic  (c) Copy of the PNDT Act should always be present in the Clinic
Earlier, Penalty for Contraventions of the Act provisions for which no specific punishment was provided in the Act, could have led to an imprisonment up to three months, or a fine of up to Rs 1000 or both. It is now proposed that or such Contraventions; there may just be a fine which may extend to Rs 10,000   & for continuous contravention, an additional fine which may extend to Rs 1000 everyday. It may also lead to confiscation of ultrasound machines & other equipments in some cases
Offences by Companies – To increase the accountability of manufactures, it is proposed to be bringing Manufacturing companies as separate entities under the act. It is further proposed that for offences by the company, it should be liable to a punishment of not less than 3 years & a fine not less than 25 lakhs. Further, if any company that refuses or fails to provide sales details of USG machines & other imaging equipments to central Government & the respective state or District Appropriate Authority, on quarterly basis, or else as desired by authority, will be punishable with a fine of not less than Rs 5 lakhs & in the case of continuous contravention with an additional fine which may extend to Rs 5000 everyday during which such contravention continues
The definition of a Medical Geneticist is proposed to be altered to define a medical geneticist as a person who has DM/ MD in medical Genetics recognized by MCI or has worked/ done research for not less than five years in a recognized university/institute or has obtained a doctorate degree in the area of clinical or medical or human genetics after obtained :
(i) Medical qualifications recognized under the Indian Medical Council Act,1956 (102 of 1956); or (ii) A recognized post graduate degree in subjects like Zoology/Molecular Biology/Human Genetics/Bio-chemistry/ Bio-technology, Biomedical sciences & Biosciences /Life sciences
You can get the full details of the amendments by clicking on the following link: http://www.medicaldialogues.in/wp-content/uploads/2016/03/PNDT-Proposed-amendments.pdf
Coutesy by : http://www.medicaldialogues.in/health-ministry-proposes-amendments-to-pc-pndt-act/