Niranjan Ultrasound India provides high-quality, cost-effective and prompt service for all kinds of ultrasound needs, along with a wide range of CMC and AMC options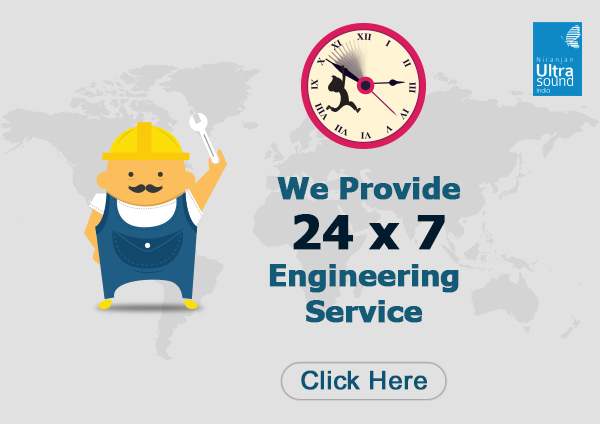 Service Wing 
Niranjan Ultrasound India provides to its customers the most cost-effective and high-quality services in terms of ultrasound machines of any make, transducer repairs of any make, wide range of accessories and spares of all MNC brands available with us in-house.
Our merits include
Membrane fabrication through Membrane Replacement Technology (MRT), approved by the Department of Science and Technology, Government of India through Technology Information Forecasting Assessment Council.
We have an exclusive 1300 square feet professional service lab with nickel tester, phantom, etc. & boast of a professional hi-tech painting booth along with professionally trained & experienced painters.
We have the most well-experienced, highly trained and highly qualified service personnel available to ensure maximum quality work is delivered within the stipulated time frame.
Round-the-clock service by our well-trained and highly qualified field engineers either on-site pan India or at our various service centers in major cities in India.
High probability of ultrasound & transducer spare availability with us in-house of any make & model with 24×7 online technical support made available to our valued & esteemed customers worldwide.
Niranjan Ultrasound India's reputation is who we are today.  We strive to provide quality services.  We want our customers not only to expect the best, but to receive the same from us.  We are committed to providing the following:
100% working parts. Our parts are tested and quality checked by our Quality Control Cell before being put into inventory.
Adhering to a Quality Management System. Having a quality system in place ensures that every employee is trained and involved in our strict quality guidelines.
Focus on Customer Service. Our trained engineers provides complimentary and Technical Support before and after every sale to ensure our customer's requirements are met immediately and to their complete satisfaction.
Competitive Pricing, because we do all the repairs in-house or at customer site we can pass along the savings to our customers while assuring them of the quality available in the industry.
Dedicated Test Beds and our in-house large inventory of functioning and maintained Ultrasound machines guarantee that every part is "live" tested on an ultrasound machine and passes all system checks by the QC.
Our Suppliers, we have excellent relationships with our suppliers and OEM's and work with them in close coordination to achieve our goals and high quality standards.
Continual Improvement is what we believe in and we can always keep improving our performance through ongoing training and listening to our customers feedbacks.
Niranjan Ultrasound India's presence in India
Our branches spread out across various cities like Delhi, Kolkata, Mumbai, Bangalore, Rourkela (Orissa) and Chennai.
Our Field Engineers coverage area extends to :
J&K, Himachal Pradesh, Punjab, Haryana, Uttar Pradesh from Delhi Branch Office.
Gujarat, Maharashtra, Madhya Pradesh and Goa from Mumbai Branch Office
Karnataka and Andhra Pradesh from Bangalore Branch Office
Orrisa, Chattisgarh, Telengana, Vijaywada, etc. from Orissa(Rourkela Branch Office)
West Bengal, Bihar, Jharkhand, Assam, Tripura, Nagaland, Manipur, Meghalaya and Arunachal Pradesh from Kolkata Branch Office.
Tamilnadu from Chennai Branch Office
Rest of India Kerala Branch Office at Kozhikode.