Refurbishment Technology at its Best in Ultrasound Imaging — Niranjan Ultrasound India

Niranjan Ultrasound India is an ISO 13485:2012 & ISO 9001:2008 certified company, which provides high-quality refurbished ultrasound machines, accessories & spares at reasonable prices. Owing to our rich ultrasound experience,  increased global presence & cross-border sales of ultrasound machines exported to more than 70 countries.
With a dedicated customer connect wing, to ensure all ultrasound queries are heard & all customer needs are attended. We offer the best after-sales & service in terms of comprehensive maintenance contracts & annual maintenance contracts (CMCs and AMCs). With an exclusive 1300 square feet service lab with nickel tester, phantom text, etc., we ensure prompt and quality service either on-site or at our service center.
We have adapted to the latest ultrasound refurbishment & servicing technologies recently available in order to provide the customer with high-quality machines, accessories & spares at reasonable prices. With an extensive in-house spares inventory, high probability of availability of spares, 24×7 customer support with online service facility & an exclusive Ultrasound App for buying, selling ultrasound systems, accessories & spares, Niranjan Ultrasound India has become the first choice as a service provider among the ultrasound users worldwide.
The medical equipment market is set for a boom in India. The buy and use of refurbished medical equipment seem to be common nowadays. There is an increasing demand for refurbished medical equipment in India as facilities with limited funds and declining reimbursements look at this option as a cost-reducing alternative to purchasing new equipment. As the market is flooded with different brands of refurbished medical equipment, it is imperative for a person to strive to purchase the right kind of equipment. Refurbished medical equipment is an appealing option for many because it typically costs less than new equipment with all the same functionality. While used medical equipment gives you an access to low-cost equipment, it with be worth if you take precautions before your purchase.
The need, condition, quality, size and price are certain factors that can always be kept in your mind.The use of refurbished medical equipment has become an emerging trend of 'affordable buying', which is the basis of refurbished medical equipment business. The refurbishment process is intended to return a product to manufacturer's standards, including a complete inspection, replacement of worn parts, recalibration, cosmetic maintenance, and a confirmation that the equipment is in working order and in excellent condition. Here comes the advantage of dealing with a trusted brand or dealer as the used equipment they deal with would have gone through an organized refurbishment procedure, which will enable it to function as good as new.
One of the reasons people prefer refurbished product may be due to this tighter quality control check that it undergoes than a new machine, as the company check the machine to make sure it meets all standards. On the contrary, if you try to save your money without being careful, it may lead to terrible situations where you may face huge loss. There are certain factors that one should look for before you buy refurbished medical equipment. The factors one should be careful about before you buy a refurbished product includes brand name of the vendor, equipment model, quality, warranty, cost savings, user reference, product reliability, vendor track record and product support. For a person who looks for a quality equipment at low cost, refurbished equipment can be 30 to 70 percent less expensive than the new devices.
 It is always better to be aware of the company's refurbishing policies and practices and if possible, purchase directly from the manufacturer. Always purchase refurbished equipments from a qualified refurbisher and also do not forget to check the return and fail rates of the refurbisher. While, it is said that refurbished machines have been tested by trained engineers to ensure that the machines working properly, it is your responsibility to make sure the claimed process has been done. Before operating any used medical equipment, examine it carefully to make sure it works properly. It is important to be very clear about remanufactured and refurbished equipment as it will empower the best decisions for your purchase. It is risky to buy a discontinued product as any services for the equipment will completely be depended upon the vendor stock or stock from other sellers. Thus, the availability of spare parts and accessories is a major cause for concern. Refurbished equipment's parts and accessories may be difficult to source as they become obsolete and this may render the equipment unfit for use. It is always better to avoid the purchase of very old equipment. The very old medical equipment can be cheap but cannot be trusted. Always beware of your needs and requirements before you purchase refurbished equipment because sometimes it may lack the technology that you seek for and thus it may turn useless.
Refurbishment, service assurance, technical knowledge and spare support from amid, while many refurbished medical equipment of trusted brands allow for affordable machines without a sacrifice in quality, there are also situations where refurbished equipment fail to meet their quality standards. A request for reference accounts, industry certifications, insurance detail, and financial information, regulatory and quality credentials may help you to acquire the best refurbished equipment from the manufacturers. Meanwhile, the probability of occurring problems for a purchased machine should also be considered. This problem can easily be solved if you have a warranty card that you have acquired from the seller. While new medical devices come with the Original Equipment Manufacturers (OEM) warranty, the warranties come with refurbished medical equipments will be limited in time or coverage.
According to the Director of Niranjan Ultrasound India Pvt. Ltd., Mr. Joshy Joseph, "A buyer should look into the market feedback of the product, quality of supplier. He also says that one should be aware of the manufacturing year of the equipment, quality tests passed, possibility of upgradation, warranty support software and legally bounded suppliers, which helps to avoid issues related to PNDT norms."
Another factor that may help to increase your product's value is buying refurbished equipment with a brand who will remarket it to all ends of the globe, which can make sure you get the most value for your trade-in. Apart from these factors; it will be worth if you consider the post purchase service offered by the brand. It is important not only to go for refurbished medical equipment with affordable price tag but also make sure that the equipment will provide a safe and long lasting return on investment to the buyer. Efficient functioning, accuracy and durability are also factors that define the quality your product.
Thus, if followed by all these above mentioned qualities, the purchase of refurbished equipment is a viable option for potential buyers who are looking forward to buy refurbished medical equipment.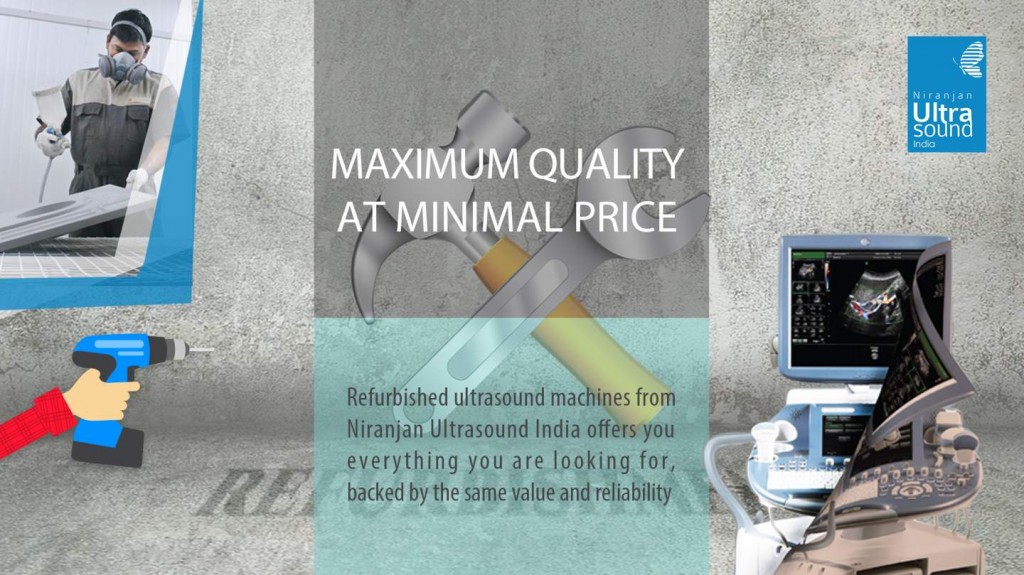 Niranjan ultrasound is well equipped with modern hi-tech refurbishment unit to help you with your servicing and repair needs. Niranjan ultrasound provides a faster, efficient, turn-around time to minimize delays to our customer and can pre-schedule servicing requirements on your machines to reduce breakdowns. Medical equipment repairs carried out by skilled, experienced, trained service engineers in Electronic, Mechanical and Cosmetic repairs are of the highest quality and covered by One year warranty on all the ultrasound machines refurbished at Niranjan Ultrasound India.
With the combined experience of over 15 years, Niranjan ultrasound can offer repairs on almost all wide variety of ultrasound equipments including Ultrasound Systems.
At Niranjan ultrasound, we take pride in knowing that each machine we sell to our customer meets or exceeds the manufacturer's specifications. Our extensive refurbishing process assures that each of our technically and cosmetically refurbished ultrasound systems looks and performs like new system. Each system is quality certified, meets or exceeds OEM specifications, and service/support contracts are available for every piece of equipment Niranjan ultrasound sells for as long as our customer owns the equipment.
Niranjan ultrasound specializes in reconditioned ultrasound systems for Cardiology/Vascular, Ob/Gyn, Radiology, Internal Medicine and 3D/4D General Imaging needs. Unlike others who may adopt a "wash, dust & spray" approach, our process is thorough and exhaustive. Our thoroughly remanufactured systems are supplied with all necessary electrical, mechanical, and cosmetic upgrades not to mention our team of skilled, well trained & experienced refurbishment team with excellent & professional infrastructure so that each USG machine that comes out of refurbishment process looks and performs as if a brand new machine. Each ultrasound we sell is delivered to your facility ready to scan patients upon installation.
Niranjan ultrasound's stringent & arduous refurbishment process ensures the highest of quality of our ultrasound system.
STEP 1: Selection
Pre-owned Ultrasound Systems selected by Niranjan ultrasound must pass a strict pre-purchase inspection. We carefully select only the very best, mid-life equipment for our refurbishing process. We avoid equipment that has experienced high usage or has been poorly maintained. Equipment chosen by Niranjan ultrasound has been well cared for and carefully inspected & De-installed by a certified engineer.
STEP 2: Complete Refurbishment
Niranjan ultrasound's extensive refurbishing process includes complete refurbishment of all mechanical, electrical, and computer systems. Our experienced engineers completely refurbish the system, insuring compliance with new equipment specifications. Our expertise includes the most popular systems from GE, Siemens, Acuson, HP, Philips, ATL and Toshiba. Each carefully selected used ultrasound machine is put through a rigorous refurbishment process by our certified, factory-trained engineers. All used ultrasound machines undergo the following:
• After reviewing error logs, extended basic tests are executed
• Our engineers dismantle all major components
• Each ultrasound transducer is inspected for cracks, swelling and de-bubbled
• Complete electrical inspection is performed
• Defective and out-dated parts are replaced with new or remanufactured parts that are guaranteed to meet OEM specifications
• All ultrasound accessories, such as VCRs, printers, filters and keyboards, are thoroughly inspected and enhanced to meet OEM standards
• Systems are professionally cleaned inside and out, sanded, and any imperfections are repaired;
• System shells are then sterilized and repainted
• The ultrasound machines are tested and calibrated, including a complete electrical safety check before a final check of error logs
• All errors are cleared and the filter service meters are reset, Once the refurbishing process is completed. Every system is pre-staged, subjected to functionally test each unit & scientifically packaged before it leaves our facility
• And at last, a final pre-shipment inspection and certification
STEP 3: Equipment Warranty & Service
Every remanufactured system comes with a comprehensive warranty including all parts and labor. Niranjan ultrasound guarantees fast response time for all your warranty needs anywhere throughout the Country & Abroad. Moreover we also assure to take back the system if the customer is not satisfied with no extra costs other than the transportation cost involved. This type of quality after sale support is why Niranjan ultrasound continues to earn customer loyalty in such a highly competitive atmosphere.
Niranjan ultrasound can meet all of our customer needs. Our products and services include the following:
• Ultrasound products & accessories
• Refurbishing existing systems
• Extended warranties & service contracts
• Technical support
• Equipment trade-in & purchasing options
• Upgrade packages
With a large selection of fully reconditioned inventory and an extensive knowledge of the ultrasound industry, Niranjan ultrasound will provide you with an unmatchable level of professional attention and the right Ultrasound System at the right price, every time.