Niranjan Ultrasound at IRIA 69th Conference at Bhubaneshwar, Orissa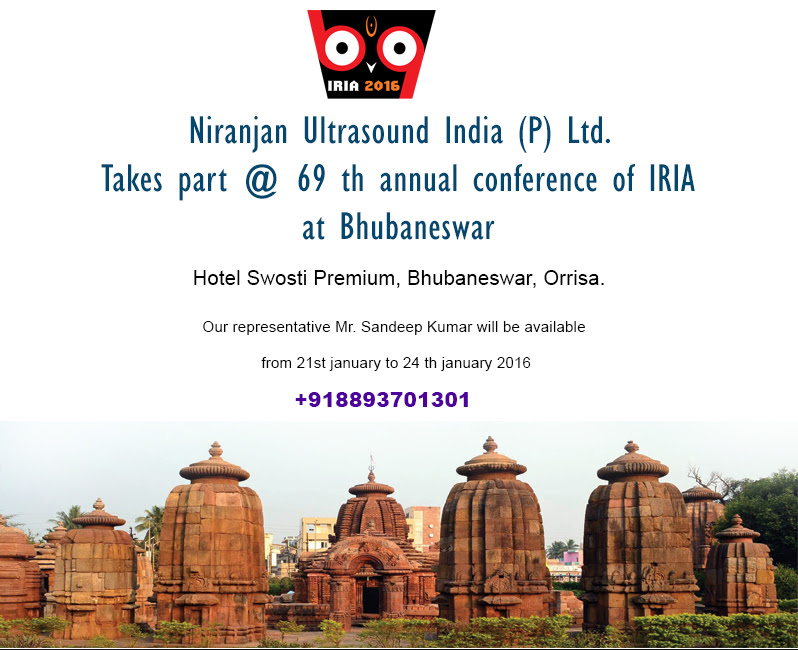 It is indeed NUIPL's proud privilege to participate at the 69 Annual Conference of IRIA at Bhubaneswar from 21 January till 24 January 2016 at Hotel Swosti Premium, Bhubaneswar.
Scientific deliberations form the core of the conference with delegates from across the country & abroad, who will share their work, knowledge & experience in various specialties and sub specialties of Radiology. This includes Scientific Orations, Workshops, Lectures, Paper & Poster Presentations and Academic Interactions. The conference will be full of surprises to stimulate the academic & Interpretative appetite of the budding radiologists.
We will like to thank all those delegates who have given us special consideration by visiting the venue & interacting with our Representative Mr. Sandeep Kumar.
Niranjan Ultrasound India (P) Ltd., Well Wishes & Heartiest Congratulations to the Organizing Committee for being a wonderful host to this Exceptional & Overwhelming Event which brought together highly specialized intellectuals from all over the Globe to one point of interaction to share their knowledge, skills, technical know how, etc. on a single platform thereby benefiting the society & young aspiring radiologist, doctors, technicians, medical & surgical equipment manufacturers, etc at large.
Also appreciate the people of Orissa for their contribution in hosting the event.