Bringing European Standards to India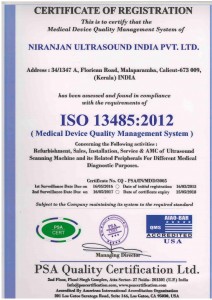 Niranjan Ultrasound India Pvt. Ltd becomes one of early   refurbishment companies in the country to win the European Standards by bagging ISO 13485: 2012 for refurbishment, sales, installation, service and AMC of ultrasound scanning machine.
ISO 13485:2012 is the most recent iteration of the ISO 13485 quality standard for manufacturers of medical devices.Receiving the certification, it is proved that the refurbished medical devices sold by our current quality management system complies with the requirements of EN ISO 13485:2012.
The refurbishment, sales, installation, Service and AMC of Ultrasound scanning machine and its related peripherals for different Medical Diagnostic Purposes are the various activities considered for the given certification to NUIPL by PSA Quality Certification Ltd.
Niranjan Ultrasound India Pvt. Ltd is a key player in the ultrasound sales and service sector since its launch in 1999. Also, we  provides 24×7 customer support through online service facility with well-trained professionals either on-site pan India or at their service center. The company has exported its machines to as many as 69 countries through 680 companies.