Now Avail 25% off on all GE Transducers till 30th June 2016 from Niranjan Ultrasound India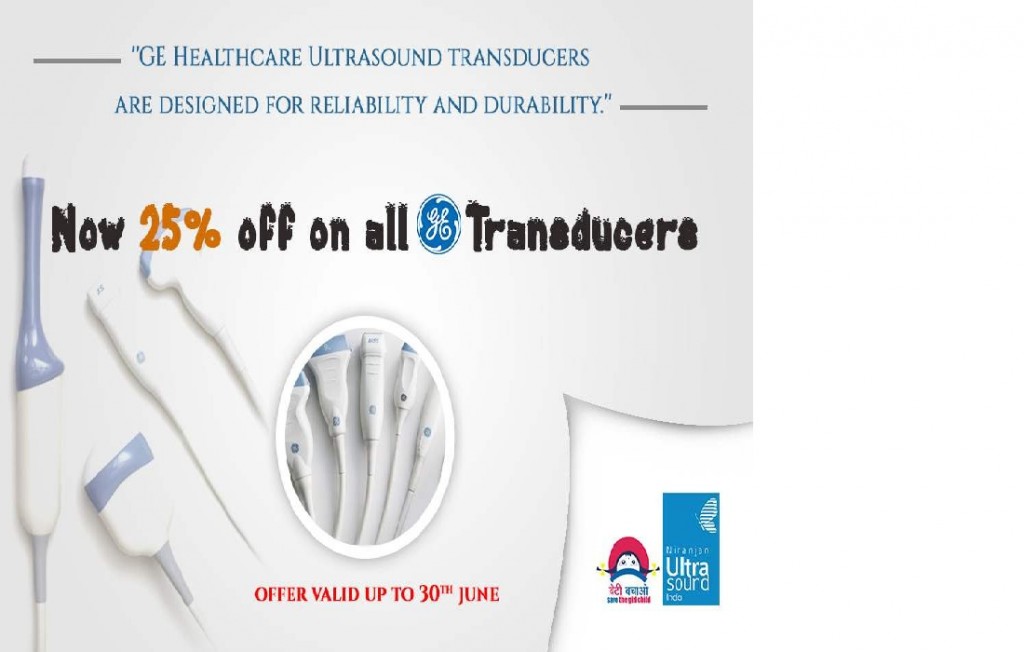 Niranjan Ultrasound India is your one-stop source for the biggest selection & lowest prices for new & used ultrasound transducers. We carry a complete inventory of ultrasound equipment with ultrasound machines by GE & many more. No matter what you need for your ultrasound system, it's a good bet that Niranjan Ultrasound India has it at the best & affordable price. Contact us today for a low price quote.
GE Ultrasound Transducers
 GE Healthcare Ultrasound transducers are designed for reliability and durability.
Handling GE Transducers:
Avoid dropping, impact, or abrasion to transducers. Careless handling can result in damaged acoustic lens, piezoelectric element breakage, cracked housings, and cable or system connector damage. Never use transducers with cracked or damaged housings, shaft, acoustic lens, strain relief or cable assemblies as these issues may increase cross-contamination risks and compromise electrical safety features of the transducer.
Avoid excessive twisting, pulling, pinching or kinking of transducer cable assemblies. While transporting transducers, maintain control of cables and system connectors. Use protective accessories if possible.
Prevent introduction of foreign objects or moisture in the system connector assembly. Do not apply excessive force on any component of the system connector.
Do not allow prolonged exposure to excessive moisture or immersion of transducers in any liquid above the recommended level as stated in the user manual for your system. Do not soak transducers in any liquid for longer than the recommended period according to the chemical manufacturer instructions for use.
Avoid rapid and extreme temperature changes, as well as lengthy exposure to direct sunlight or a strong ultraviolet light source.
Use caution when applying coupling gel to the acoustic lens of a transducer. Any hard or abrasive materials coming in contact with the acoustic lens may damage the transducer and reduce image quality. Transducers with evidence of improper care and handling, abuse or tampering are not covered under product warranty or service contract. All transducers are subject to evaluation by Niranjan Ultrasound India Service.